Learn from the professionals...

Looking for Pre-Licensing, Exam Prep, Post-Licensing, or Continuing Education? 

G.R.E.A.T.'s real estate agents never stop learning, and continue to evolve as you do. With our convenient online courses written by industry experts, what you learn will help you succeed.

G.R.E.A.T.'s instructors come from diverse background, providing a complete view of the real estate industry. Our instructors are professionals in the field and carry years of experience.
---
Our Instructors make a GREAT difference…
Being an a good instructor takes more than simply understanding real estate. You also have to know audience. Just like a real estate agent has to be up-to-speed on buyer and seller behavior, so does the instructor. Our instructers are always updated with consumer trends. Knowing the habits of real estate consumers enables an instructor to create courses that help agents understand how to relate in today's world.

I's important that agents keep pace in the way they serve the consumer. An instructor who understands the types of buyers and sellers in today's marketplace peppers their courses with this insider knowledge and better serves the students.
 
Our Lead Instructor, Dr. Nicole Dhanraj
Dr. Nicole Dhanraj is an army veteran with a diverse background! Her diversity spans many industries such as healthcare, education, business, and real estate investing. She is an experienced Real Estate owner, Director of Radiology, Professor, Edupreneur, Author, SCORE Business Mentor, Subject Matter Expert on business topics like organizational development, strategy development, and leadership,. She is also an Appreciative Inquiry Facilitator, with work focused on using positive change management tools. 

Dr. Dhanraj received her bachelor's degree in Psychology from St Martin's University and her Master's in International Relations, graduating magna cum laude from Troy State University. She earned her doctorate with an emphasis in Organizational Management from Capella University. She received her certification as an appreciative inquiry facilitator through Case Western Reserve University. She has several certifications to include project management, human resources, radiology administrator. She holds her real estate license in Guam.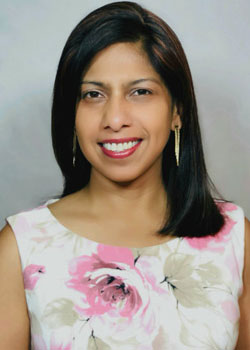 ---
Our Instructors Teach Relevant Information
Real estate is a fluid topic, with new laws and techniques emerging frequently. To be relavant, courses must be constantly updated and ahead of the curve. To excel, real estate instructors must familiarize themselves with all things new and continue their own education.
 
Our Instructors Believe In What they Teach
It's not enough to just teach material. Our instructors believe in what they are teaching. This is usually fueled by their understanding of why they are teaching in the first place. These beliefs should pass through to the students. When students believe in their instructors and the material, they are more likely to learn and retain the material.
 
Our Instructors Passionate about Real Estate
A passion for teaching real estate will make a difference in students' business practices. Students can tell the difference between an normal delivery and an great delivery based on enthusiasm for the material being presented and they'll respond to the passion too, because it is something memorable.
 
Our Instructors Have The Skills Needed
Good instructors have the ability to handle classroom management issues effectively. In today's world, lecturing can be a turnoff. Most real estate students want to be involved in their learning, so instructors who have master their ability to ask questions and encourage student participation. Incorporating group work, and individual (seek and find) activities should come easily. In turn this encourages students to learn on their own.